Mandatory symbol of the company New Year celebration in the Wild West of Ukraine
When setting up a budget for a New Year celebration in a company from the rural areas of the wild west of Ukraine, it is important to prioritize correctly.
The most common is the organization of a feast in a decent local restaurant. This is a great test for the team. Beautifully dressed people from your team in the process of fun after a few rounds of alcoholic drinks will become frank. Trust me, in the very tomorrow everything told in private will be widespread in the whole village.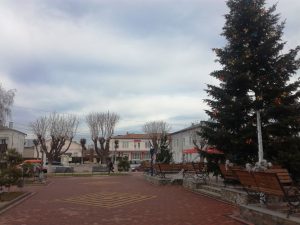 Organization of the feast is an important element of the celebration of the new year, but far from being the most important.
Here is the strong idea, discussed by all workers:
«Even in the worst office they give champagne and sweets for the New Year»
These attributes, together with the wages paid in time before the new year, are mandatory symbols of a decent company. A man should come home from work on the new year's eve and bring a cherished bottle of champagne and sweets to the family, carelessly put them with the words: "Eh…they gave to me at work…type of present".